Beyond Awesome. Better Ways to Say "Great Job!"
It's nice to give praise. To tell people they did a great job or that you really enjoyed the coffee/meal/cake they made you. Positive feedback helps reinforce desired behaviours and sends a message of appreciation. Something that's much needed in the workplace and home. But have you stopped to consider how you give praise?
"You did a great job Sally, well done"
"That presentation was awesome. Great job!"
"Amazing cake, thank you!"
Do you spot a theme?
Yes, the words are positive. But then if they weren't, it wouldn't be praise.
The other thing you may have noticed is that the words are all fairly general. They're not specific and are easily swapped around with one another. "Awesome" could apply to the cake, presentation or job that Sally did.
So what?
The problem with using generalist vocabulary is that it lacks true impact and doesn't really say what you were impressed with. The effect lessens with each usage. The problem with telling everyone that they do a great, awesome or amazing job, is that over time, the effect of that compliment diminishes.
How to give more constructive praise
It all comes down to the words you use. Be more thoughtful in your choice of vocabulary. Perhaps Sally did a "meticulous" job, or maybe she was "right on brief". Both of these give Sally an idea of what you're so happy about, helping guide her with future projects. She'll be just as, if not more pleased than if you'd said "great".
And that "awesome" presentation may well have been "inspiring", "thought-provoking", "highly competent" or even "well-judged and very funny". So much more helpful than an over-used statement of  "awesome".
And of course, you'd be absolutely right to describe a delicious cake as "amazing", but how about getting a bit more creative with your compliments – "so rich and chocolatey", or "light and delicious", or even "just the sugar hit I needed right then". You'll be so much more likely to be offered an extra slice…
Let's face it, no-one's going to get grumpy with you if you happen to tell them they did something awesome. I certainly wouldn't. But to give them a thoughtful compliment or well-considered piece of praise could well make their day.
And wouldn't that be awesome?
Looking for better ways to express yourself? Sign up to my not-very-regular email updates and you'll get more ideas and suggestions. (You'll also get a FREE downloadable checklist to help you write better blogs – feel free to pass it on if you won't use it!)
Want to write a bad email? Start like this…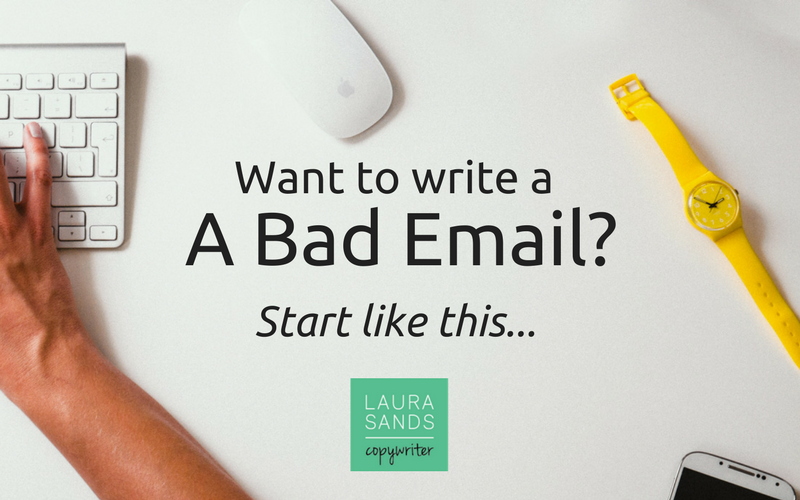 It slips off your tongue easily and finds its way off your fingers and onto a keyboard even more easily. But kicking off with an apology is one of the fastest ways I know of starting an email on the wrong foot.
Sorry. Forgive me. My apologies.  Whoops-a-daisy. My bad.
You get the picture.
Why you shouldn't start with sorry
The person reading your email will be ready to wonder what you've done. Should they feel aggrieved? Impatient? Irritated? You're certainly suggesting they have a right to be. As we humans are highly suggestible there's a chance that even if they weren't aware of the wrong you'd committed, and couldn't have given two hoots, they may be a bit less than impressed with you than they were 10 minutes previously.
An example…
Let's say you've sent something a bit later than promised. Train delays, kids off school, cat to the vets with a mystery cough… life happens. You finally whizz off the email to your contact, starting with an almost out of breath "sorry this is so late…".
What's the first thing the recipient thinks? "urgh… late again". They sigh as they sip their coffee and add a little black mark against your name in their imaginary list of "people I deal with".
If you were just an hour or so late, you'd have been better not mentioning it at all. There's a chance they hadn't even realised your note was late. If you were over a clear deadline or a day or so late, you could replace an effusive apology with a more assured "thank you for your patience…" – a trick you might have seen elsewhere.
Thank you for your patience
It's something doctors say, you've probably heard it before…
You've been waiting in a stuffy waiting room with only copies of the "People's Friend" for entertainment. It's been 45 minutes and you're ready to create merry hell. The doctor eventually calls you in and says "thank you for your patience". They may even explain why they're so over their schedule. Because your doctor is lovely and you know they do a good job, you readily forgive. After all, you don't mind being patient do you? 
Instead of apologising for a small and understandable deficiency on their part, the doctor praises you for a positive behaviour. It's a small thing, but it makes a big difference to the way you feel. "Thank you for your understanding" works just as well. You make people feel good about their behaviour, shifting the emphasis off yourself. But sometimes this isn't appropriate; perhaps a big fat "sorry" is in order.
When the situation demands an apology.
You don't need me to tell you this. In situations that require an apology, you should say sorry.
But you don't need to start your email with an apology. Get into the solution, help resolve the situation. Something along the lines of "I see what has happened. I'll get back to you with XYZ by lunchtime tomorrow". Then add your apology.
In fairness, if you've made a mistake that demands an apology you probably need to get on the phone and talk it through. But because you'll be following up that phone call with an email as well, you need to remember to think carefully about how and where you place that necessary apology.
Sorry? What was that?
Say sorry. Show sorry. But start an email with a "sorry"? There's never any need to do that.
Do you agree? Or not? Let me know.