Want Results? Brief Your Copywriter Like This.
It is a truth universally acknowledged that a good brief gets good work. The time and effort you put into creating a brief are directly correlated to the satisfaction you'll receive from the finished piece.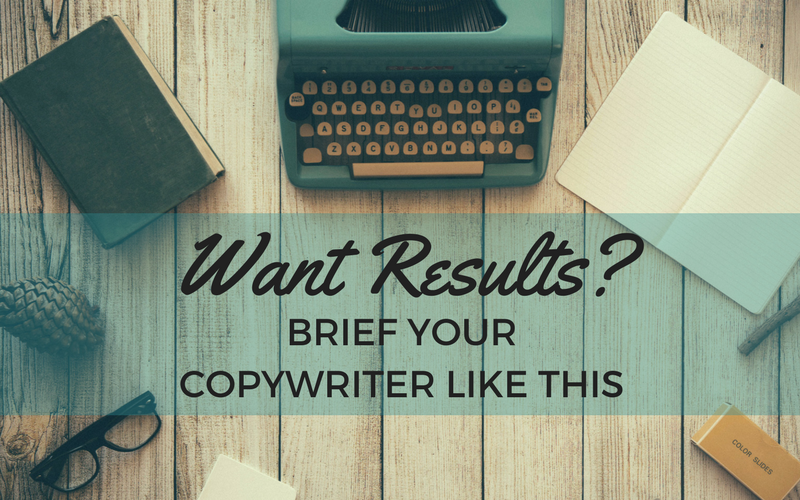 But how to do you create a "good" brief? What does good look like? Let's take a look at something seemingly unrelated… a trip to the hairdresser.
Client: I want it a bit shorter, with texture, but no layers. A bit of oomph, but sleek at the same time".
Hairdresser:  So how about an inch and a half off the ends, and a body wave to give you some texture.
Client:  No, no chemical treatments, and although it needs to be shorter, I don't want to lose the length
You leave the salon an hour later with something that looks very similar to what you went in with, just with a better blow dry. You grumble that the hairdresser didn't do what you wanted, and say you're never going back.
But if you'd been clearer, the results would have been different. You could have taken in a photo of a similar hairstyle. Researched what it was you wanted and given the hairdresser a more concrete idea of your definition of the words "oomph" and "sleek".
Briefing in a copywriting or design project is not that different. Good creatives will seek to clarify for you, make sure they understand what you actually want. Client satisfaction is after all the key to success. But to get the work you want, you need to brief well. You need to brief like a boss.
How Should I Brief My Copywriter?
There is no agreed and official way to brief. Some agencies and freelancers may have a briefing form for you to work with, but these can be restrictive and prevent clients sharing the information they need to share. It's better to work through your brief thoroughly and well in advance. Here are some helpful pointers:
Project Scope: What do you want? Copy for a new website or just one or two pages? An entirely new blog post or something repurposed from existing content. Let your copywriter know how much you want them to write. Either in terms of wordcount or number of pages.
Objectives: What do you want this work to do for you and your business? Why are you investing time and money in this activity?
Audience: Who do you want to read this piece of work? Same people as now or a new audience?
Messages: What do you want people to do because of this piece of work? Think hard about this before deciding what you want to tell your audience. Any copywriter worth his or her printer ink will make sure your finished article is client-focused, but they may need your help in getting there. What do you want to tell your audience and what do they want to know?
Tone: Are you an approachable confidante? Or a professional authority with a formal tone? Give your copywriter as much as you can here. If you have examples you like, then share them – you'll be more likely to strike gold first time round. If you're not certain take a look around and let your copywriter have a few examples of a tone you'd like to replicate.
Essentials: what are the things you absolutely want to see in the finished article? And what do you definitely not want to see? List set phrases or spellings, keywords and legal requirements. Your copywriter will only know what you want or don't want if you tell them.
Deadlines: give a realistic deadline and let your copywriter know the stages of approval. Are you the only person to please, or are there 3 other people who will want to take a look? And for the purposes of your budget try to give as much time as possible. Short or antisocial deadlines tend to command a premium rate.
Background information: how much do you have? Give it all to your copywriter. Send them background links, presentations and samples to experience. Writing about something you have little knowledge about can be tough; you'll get client brownie points if you flood your copywriter with information. There is genuinely no such thing as too much background information.
Briefing Your Copywriter Gets Easier With Practice
After working with a copywriter for a while, you'll develop a relationship where the briefing process becomes much easier and faster. But it will always be worth working through the above points to make sure you don't miss anything out. It may take time, but time spent writing a solid brief is time well spent. You owe it to yourself and your business.